New Here? Don't miss out! 🙂 Get my posts to your inbox!

>>> Click Here! <<<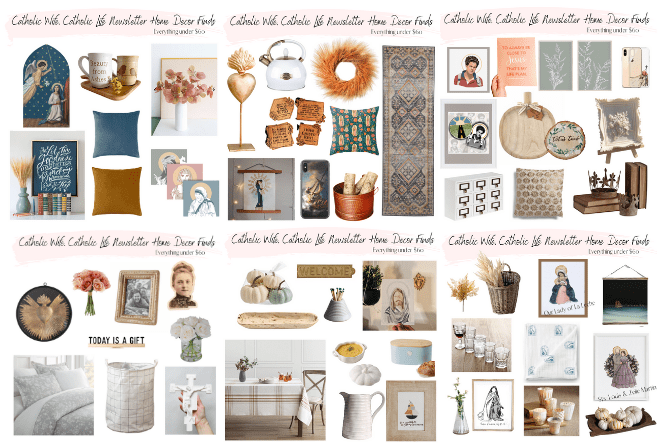 Here are this week's must-reads:
+ "Every Christian home should be a haven of peace and serenity. In spite of the small frustrations of daily life, an atmosphere of profound and sincere affection should reign there together with a deep-rooted calm, which is the result of authentic faith that is put into practice." (St. Josemaria Escriva) I'm always working on this in our home. And I think that decorating with beautiful reminders of our faith helps. ❤️ That's one reason I love to share Catholic pieces in my CWCL (Catholic Wife, Catholic Life) newsletters every Monday. ❤️
+ "The home, you might say, ought to be a little Eden on earth; or better, because we are now redeemed, a little bit of heaven…" 💜 I love this line from The Little Oratory
+ "Home is where we are nurtured, where we live, and where we love. The language of home is universal. It is where we find the eternal in the everyday." — Theology of the Home
+ "No matter your state in life, how we decorate our homes matter. Not only should decorations provide a window into our spiritual lives and direct our thoughts and those of others to God, but they should point to our forever home: heaven.⁠" — Radiant Mag
+ "A saint is someone who, fascinated by the beauty of God, gives up everything, even himself, and enters into the great movement of return to the Father that was initiated by Christ. We are all called to it. I want to repeat this. We are all called to renounce everything, even ourselves, out of love for God. We have to live out this radical renunciation, each one in his state of life, and experience the truth that God's love is enough." — Cardinal Sarah
+ "Sadness is looking at oneself, happiness is looking at God. Conversion is nothing but a movement of the eyes".— Bl. Carlo Acutis
+ "From Mary we learn to surrender to God's will in things. From Mary we learn to trust even when all hope seems gone. From Mary we learn to love Christ, her Son and the Son of God…Learn from her to be always faithful, to trust that God's Word to you will be fulfilled, and that nothing is impossible with God.'" – St. JP II.
+ Our next novena: the St. Jude Novena begins next Monday, October 19th! We will pray for your intentions & many impossible causes throughout the novena. You can sign up to join us in prayer here: https://www.praymorenovenas.com/st-jude-novena
+ "O Lord, grant me to greet the coming day in peace. Help me in all things to rely upon thy holy will. In every hour of the day reveal thy will to me. Bless my dealings with all who surround me. Teach me to treat all that comes to me throughout the day with peace of soul, and with the firm conviction that thy will governs all. In all my deeds and words guide my thoughts and feelings. In unforseen events let me not forget that all are sent by thee. Teach me to act firmly and wisely, without embittering or embarrassing others. Give me strength to bear the fatigue of this coming day with all that it will bring. Direct my will, teach me to pray, pray thou thyself in me. Amen." — Francois Fenelon
+ Beyond Juan Diego and Kateri: Meet other indigenous American saints
+ Easy Gluten-Free Banana Bread — we made this last weekend & really liked it! And it *was* easy! 🙂
+ "You do not need to take on every Catholic devotion to be holy."
---
+ I'm sure you're seeing it's Amazon Prime Day this week, but here's another option… I included links to many Catholic creatives' shops in my newsletter — I do every week!
We love to support Catholic businesses & share the best of what I find with you.
As always, here are a few pictures of what's included in this week's
Catholic Wife, Catholic Life Newsletter!
I share this newsletter every Monday and it always includes two gluten-free recipes, a reflection & prayer based on Sunday's Mass Readings, and links to budget-friendly fashion & home decor.
You can sign up for the newsletter here!