New Here? Don't miss out! 🙂 Get my posts to your inbox!

>>> Click Here! <<<

It's the last day of the Anniversary Round-Up series!
If you haven't already, be sure to check out Part I, II and III. There's some good stuff there! 😉
Anniversary Round-Up Part IV
"One tradition that we have done each year on our anniversary since our first anniversary is watch our video from our wedding. Now we did get married before the digital age so the color quality is…90ish, but the memories of our day continue to be with us each time we play our video. We did copy it onto a DVD to help make it last longer.    It is a joy to now watch the video with our Cupcakes as the younger ones have asked through the years why they weren't there to celebrate with us 😉 Each year we are not only reminded of our holy vows we took in front of our Lord, family, and friends, but we also get to see friends and loved ones that are no longer with us here on earth. You know I still get "butterflies" and filled with excitement just before I watch the part of the video where I'm about to meet my true love at the altar and begin our lives as husband and wife!"
"So much can happen as another year goes by and even more in four! Even though it feels as though our wedding was a lifetime ago, I'm realizing that we're still very much in the beginning of marriage. I have changed so much since being married to Andrew. I'm more relaxed and flexible. I'm more prayerful and aware of God's presence. I'm happier. How much more will I change over the next 20 years? or the next 50? I hope we're blessed to be married for so long! Happy Anniversary to the Greatest Blessing of my life!"
"The beauty of a sacramental marriage starts on the wedding day, exchanging vows, uniting with God and intimately conjugating the marriage, but the sacrament is a daily gift.  I see the beauty of a sacramental marriage each day with every act of service and devotion that my husband and I give to each other and to God.  Through the messy kitchen, the dirty diapers, the long work hours of residency, through each moment we are united with God and he makes us stronger together through Him.  He makes it easier for us to get through each day and come together in prayer and thanksgiving for Him and for each other. Today I thank God for the beauty and the gift of a sacramental marriage.  Today I celebrate the gift of my husband and I thank God for the gift of the 8 years that we have had together.   Today I pray that we are blessed with many more years together."
"The truth is, this worn-out, stressed-out season of our marriage isn't any less of a marriage than the googly-eyed, PDA-filled love fest where it all began. To everything there is a season. Flaring tempers and rough patches aren't a death knell for marriage. Marriage isn't all about sunshine, bowls of cherries, and self-fulfillment… There are low points when you may wonder, "Did I marry the wrong person?"… The beautiful thing about seasons is that they change. While the highs of newlywed naiveté last only a season, so, too, do the lows. But you have to endure the cold and darkness of winter to enjoy the rebirth of spring. Sometimes you'll go through all four seasons in one day!"
"(Three things that have helped us stay married this long…) At the top of this list has to be a strong faith life in prayer. In addition to attending mass we began by praying together at the close of each day. As we had children, this became a family prayer time where each of us lifts up our intentions and one another in prayer. Yet, over the years we find that we also join together to pray throughout the day. It could simply be a text, or the invitation to say a decade or two of the rosary together. "Where two or more are gathered in my name" truly has special significance in our lives. Secondly, we have found it vital to support one another through life's challenges as well as to fully celebrate life's gifts.  In those moments when I've been given an overly demanding day, or sleep and serenity elude me, I know he's there to listen and lend a hand. Conversely, when one of us has good news we appreciate that we have been called to joyfully share in it.  I'd venture to say that we are each other's biggest fan! Finally, communication is not just important but essential to both of us. This goes past daily pleasantries – so often requiring persistence, patience and desire.  Whether big or small, we always try to include one another in the decision making process. Even when we disagree, we strive to never go to sleep angry."
"My husband and I had this to say about our marriage this year, "Twenty years of this beautiful sacrament we call marriage. Not one bad day in twenty years . . . a bad week, an awful month, sometimes a terrible year, but never a bad day!"

"I'm sorry. These are probably the two most important words, right alongside: I forgive you. Differences and disagreements are just par for the course and somehow we are so good at hurting one another when we argue. To acknowledge that hurt means you're willing to step outside of your selfishness and understand that this isn't just about you. If you say "I'm sorry" and really truly mean it, then everything else will be a breeze."
We lived through blizzards, catastrophic losses and even bankruptcy, but we had our love and our faith to sustain us. Soon, we were gifted with a daughter. And we were still young, but marriage was old hat by then. We had it covered. …Sometimes we continued to pray together, sometimes we prayed separately, but we always attended Mass and always stayed close to God and each other – more or less… These past 39 years have flown by and I can't really remember not being married. We've had our triumphant ups and our horrific downs. I've survived breast cancer (8 years and counting), in large part due to my knight in shining armor/court jester and the awe-inspiring prayers of friends from around the world – and of course, the grace of God. And if I had to sum up the reason for the success of our marriage in one word it would be, not love (a very close second), but GRACE. Our love is strong and has sustained us, but the real life-blood of our union is the Grace of God. He has been there, through it all, and for that we are deeply thankful!"
To finish this Anniversary Round-Up Series, here's a prayer for you to pray with your husband on your anniversary!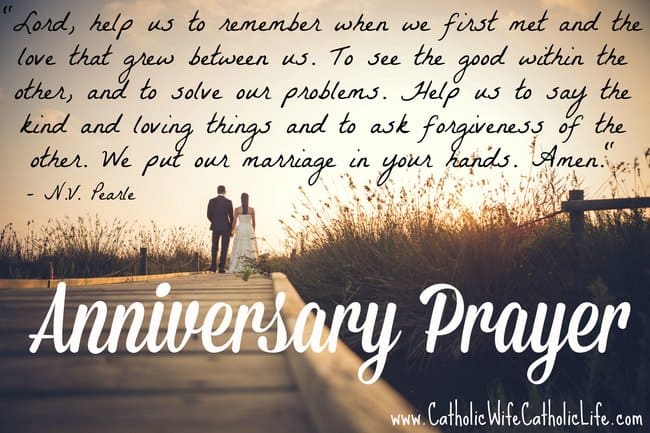 And other marriage resources you gotta check out!
What Every Couple Should Know About Marriage & Prayer
"It is very often that life should be assumed without trials and difficulties. Our Blessed Lord did not predict it so. He said in this world, "You should have tribulation." Even when one enters into a realm of love, such as marriage, there are trials and difficulties. And it is those that we would consider in this lesson… This is what might be called a 'what to do' kit when there are difficulties in marriage. We should consider two: first, when marriage dulls. Second, when the other partner becomes what is sometimes said — impossible." – Ven. Fulton Sheen
For Better Forever: A Catholic Guide to Lifelong Marriage 
"A sacrament – it has the power to sanctify, to make us holy, to draw us into deeper relationship with Christ… when we talk like this, sometimes people get the impression that we're suggesting that husbands and wives should be crawling on their knees all day long saying holy things to one another — and that's not what we're really talking about… A vital and shared prayer life is extraordinarily important, and a deep connection to the love of the Holy Spirit — absolutely critical. But what we're talking about is taking that and bringing that into the everyday relationship so that your faith changes how you argue with each other, your faith changes how you're affectionate with each other, your faith changes how you communicate with each other every day. Your faith changes everything and makes each of you God's gift to each other." – Dr. Greg & Lisa Popcak
Prayers for Spouses — I really like this! It has specific prayers for certain occasions and seasons of married life.
Six Free Gifts to Give Our Husbands — sometimes the best gifts are free! 😉