New Here? Don't miss out! 🙂 Get my posts to your inbox!

>>> Click Here! <<<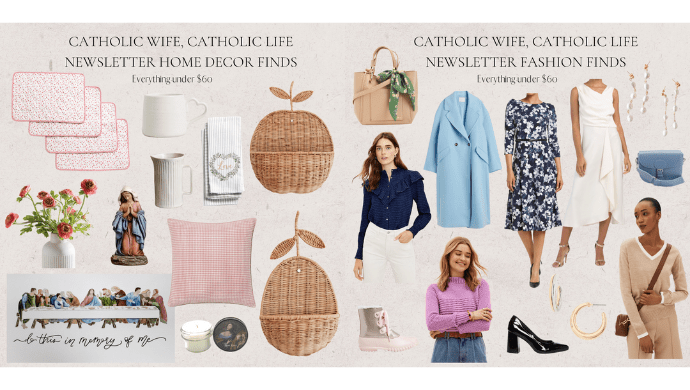 Sign up here for the Catholic Wife, Catholic Life Newsletter!
I share these newsletters every Monday and they always include:
+ Two gluten-free recipes
+ A reflection based on Sunday's Mass readings
+ Links to budget-friendly fashion & home decor, including Catholic home decor.
This is stuff I won't be sharing on my blog here!
I love to put these newsletters together and to curate and give examples of beautiful, affordable Catholic home decor and fashion finds. Because I don't want anyone to feel like they have to spend a lot to feel beautiful or comfortable in their own skin, or to feel the same way about their home.
Our home is like a little sanctuary and place of rest for us and our families.
"Home is where we are nurtured, where we live, and where we love. The language of home is universal. It is where we find the eternal in the everyday." — Theology of the Home
St. Josemaria Escriva said, "Every Christian home should be a haven of peace and serenity. In spite of the small frustrations of daily life, an atmosphere of profound and sincere affection should reign there together with a deep-rooted calm, which is the result of authentic faith that is put into practice."
I'm always working on this in our home. And I think that decorating with beautiful reminders of our faith helps. ❤️ That's why I love to put together these newsletters and give those types of examples of things we can surround ourselves with at home, to remind us and encourage us in our vocations.
"No matter your state in life, how we decorate our homes matter. Not only should decorations provide a window into our spiritual lives and direct our thoughts and those of others to God, but they should point to our forever home: heaven.⁠" — Radiang Mag
I also love to show how beautiful Catholic home decor can be coupled with other "normal" home decor that you love and already have around your home or that you normally shop for.
I used to struggle to find pieces that worked well together, that felt cohesive or that "matched" the color schemes I like in our home. Over time, though, I've been able to search and find pieces that do just that — and I hope that sharing them in the newsletters help you to gather some ideas of how you can do the same in your home.
And as for the fashion finds…
My mom always taught me that how you dress yourself and present yourself will make an impact in how you feel about the work you do that day (whether that's at a job or in your vocation). So I remember when I was growing up, it was impressed upon me to dress for the things that mattered — for the things I wanted to perform well, like a test, a meeting, or my everyday job.
Now, even though I work from home, I see a lot of value in what my mom taught me… When I get dressed for the day and the work I do — again, both in my job and in my vocation at home — I find that I have a better attitude and disposition for how to tackle these tasks and my responsibilities. I think it's because I feel good and comfortable about how I'm "showing up" to do them. And even to some extent, I think I can do these tasks and responsibilities better because I'm not worrying about how I look or how I feel — I took care of that when I picked out my outfit earlier that day, and from that point on, I'm good and set for serving and working.
All that's to say… I want to help you feel beautiful, comfortable and confident, and like you're ready for the day and all of your tasks.
And my personal style preference gravitates towards classic pieces that can be worn for years, that can be mixed and matched easily with other things that you may already own, and that are modest and flattering.
If this all resonates with you, you can sign up for the newsletters here.
—————————
Here's a look at some of the images I've included in the newsletters in the past few months: