New Here? Don't miss out! 🙂 Get my posts to your inbox!

>>> Click Here! <<<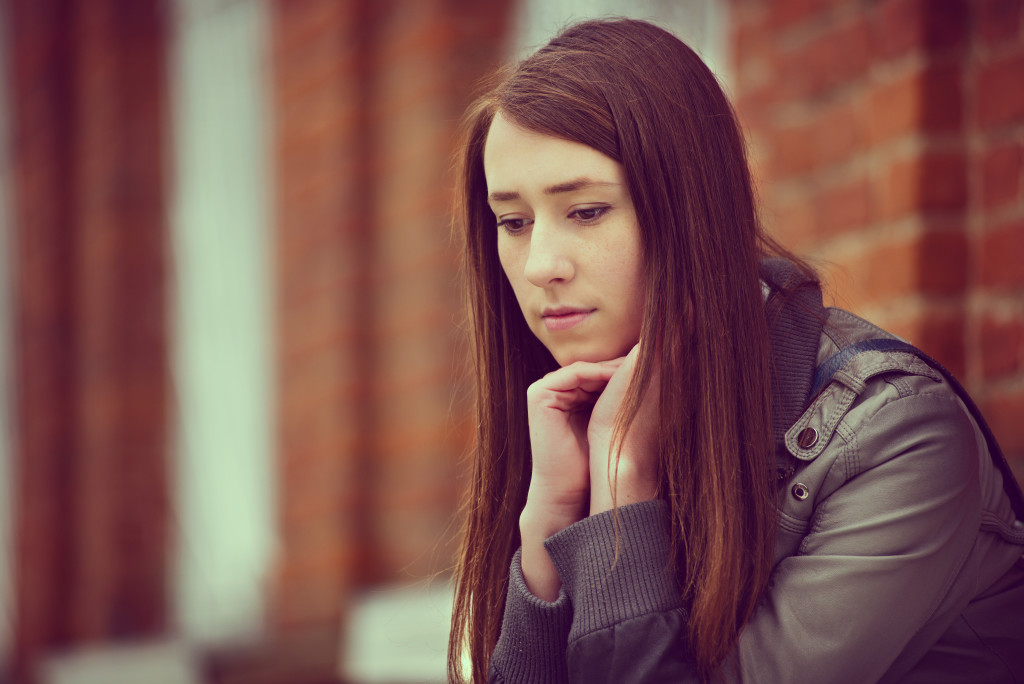 I don't often feel like I'm suffering well like the saints I admire the most (think St. Therese, St. Maria Goretti, St. Anne!), or that I'm very strong, or that I'm doing a good job of keeping it all together.
I actually more often feel weak, like I'm just barely getting by, and that I could be doing a much better job of it all…
But in the past few months, I've heard a few encouraging comments from family and friends that's kept me going; my best friend told me that I'm strong — stronger than I think, my brother-in-law told me that he was impressed by my good attitude even when he knew I was feeling unwell, and my sister-in-law actually told me I was doing a good job with everything on my plate.
That's perspective for ya; people on the outside see one thing, and me, on the inside, sees another. And my husband knows it too since he's at home with me and also gets to see more of what's inside than what's outside.
I do wish I were as strong at home as I often try to be outside of our home with our family and friends.
I do wish I had that good attitude & smile on at home as often as I do when we're somewhere else…
But it's home, and when I'm at home, I'm in my haven; I'm not worried about trying to be strong or trying to have a good attitude. I'm a little more honest at home, and if I'm being honest, sometimes that means I'm not as joyful as I am outside of our home.
But maybe I should be, though…  because especially when we have children, I want them to see and know my hope and faith rather than just my fears and doubts.
I want it to be contagious for them — my hope and my faith, not just my fears and doubts. And I want this to be true for my relationship with my husband right now.
So I know that I need to intentionally work on being a joyful person. Because it's what we're called to do, actually. Because it's a part of being Catholic. Because it's a part of my vocation, especially as a wife.
St. Paul tell us it's the will of God to rejoice always. St. Josemaria Escriva said that contagious cheerfulness brings others to follow the Christian way of life. And Pope Francis tells us we will only attract others to Christ if our witness is joyful.
See, we are all called to do the work of spreading the Good News for Christ — in all vocations, and it seems that cultivating joy — and exuding joy — is key here, especially at home if we want it to go any further.
Have you seen or met someone whose faith and joy were contagious? Just seeing them can make you feel better almost instantly.
A few weeks ago when Pope Francis visited America, there was this one picture of him that was contagiously joyful… and what a reminder of the goodness of God! Look at his smile.
Do you ever smile like that? Do you ever feel that joyful? Those are the questions I asked myself when I first saw this photo.
Maybe it takes a couple of cups of coffee (you're not alone, fellow caffeine-addict!), or maybe it takes 10 Hail Mary's, or some time after mass to quietly thank God for what He's done or what He is currently doing in your life…
Maybe it takes a combination of all these things; of prayer, of gratitude, of coffee — to begin to feel a little less despair and a little more joy.
And that's okay.
But sometimes even all three don't work for me. Sometimes the hole is so deep, and the darkness is so heavy, that crawling out into the light and cracking a smile feels like actual work.
And it is.
It is work to be joyful, and sometimes I don't prioritize that work.
But like I said before, maybe I should.
Because joyfulness is natural evangelization! And that's what we are called to do — at home, in our workplace, when we're going about our day and running errands.
And so I have to ask myself, I have to exam myself and my behavior, and my attitude, and my mood, and ask, "What kind of witness am I being today? Are people who run into me today going to say that God must be good? That He is loving? Or, will they see me and say that it's not worth it to have faith?"
I'm not saying we should put all the weight on our shoulders and put a fake smile on so as to have people think that faith is not hard, or that we don't have obstacles and crosses we're carrying.
But I am saying that I do have to realize that I am being a witness — in whatever way and manner — of God's love when I'm running about, and that it's essential that I try to be joyful, because everybody is seeking Christ and I want to be able to help them find Him where He is; and our culture has a big problem of looking for the happiness that only He can provide in all other places but Him.
Curtis Martin writes, "That's why it's essential that we manifest this joy to those around us! If the people we seek to evangelize see us as angry, pessimistic, and unduly aggravated by problems within and without the Church, why should they want to become Catholic? No. We must show those around us that, because of Christ, we are joyful, undaunted, and hopeful, in spite of the problems and obstacles that may surround us."
So even within our suffering, we are called to find joy within it, and we are called to share that joy.
If you have no idea how to begin doing that, just take a minute right now and read this scripture passage slowly — over and over again, and let it sink in:
Jesus told us, "In the world you will have trouble, but take courage, I have conquered the world." (John 16:33), and he told us this so that we would have peace within Him.
Whatever you need to do today to have a little bit of that peace within Him, do it.
Take a moment — or five if you can. Sit in silence and meditate on His victory. Remember that you are not alone today — or any other day that your'e struggling. Jesus is with you, and He is walking with you in those tough moments.
And the next time you're faced with adversity, suffering, and chaos, remember that — that He is with you. 
Then, try to look back and remember what He has already done for you.
These two steps alone are what often get me through some dark days. When I can't remember to do it, myself, I'll sometimes have a friend or my husband remind me to do this. Consider this your reminder from me 😉 And maybe it's a reminder your friend could use right now.
While being thankful for the work He has already done, you can move from sorrow to joy.
Sometimes it takes just a few minutes, and other times it seems to take all day. But keep making that list, keep practicing that gratitude, keep recognizing His truth, beauty and goodness, and you won't be able to stay sorrowful.
I've found this to be true, and more recently, I've actually started a gratitude journal — where I write down all the things I'm grateful for — all the people who bring me joy, who bring me life, who bring me out of myself… that includes you! 😉
If you're suffering to be a joyful Catholic, I just want you to know that you're not alone; that even though you might know a very joyful Catholic that you see every Sunday at Church, I can bet that they've probably had their fair share of the blues, of doubts, of fears — and certainly, of crosses. Don't compare yourself to them, and especially don't compare your insides to their outsides.
We are all going to struggle here. It's how we can help each other keep getting back up that matters. So that person you might notice at mass every weekend who always has a smile on their face? Maybe the thing you can takeaway from them is to keep trying to be more joyful yourself; not because they're so much better at it than you are, or that they must have it easier than you do, but because they're an example that they keep showing up to mass, they keep showing up with gladness with Him.
And maybe they're fakin' it 'til they make it.
And that's okay.
Maybe we have to do a little bit of that ourselves, too, once in a while.
God will provide if we open up our minds and our hearts to what He can give us.
Cultivating joy, even while we're suffering, is possible — and it is a gift.
It's a gift, "nourished by a life of prayer, mediation on the word of God, the celebration of the sacraments and life in community." (Pope Francis)